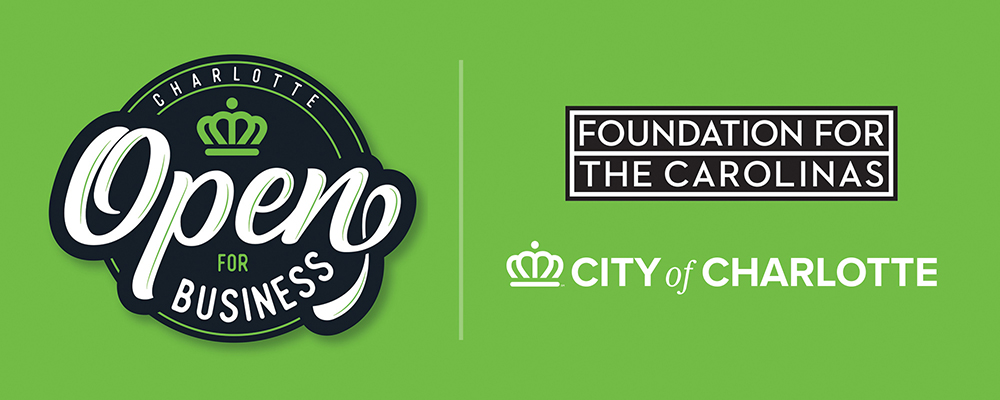 Access to Capital
Small Business Recovery Program

Thank you for your interest in the Access to Capital Program.
The application is now closed.
If you have been contacted by our reviewers to update your application, you can access it at this link.
Grants will be awarded every two weeks through late-October. If you do not receive a grant, you will receive a notification by mid-November 2020.
The Access to Capital program is a part of the City of Charlotte's Open for Business Initiative and will distribute $30 million in federal CARES Act funding to small businesses headquartered within the city limits of Charlotte. Grants are either $10,000 or $25,000, depending on number of employees.
Foundation For The Carolinas serves as the City's grantmaking partner for this effort. Assistance is available at 704.998.6499 or CLTCityGrant@fftc.org.
#f05142
Southern Blossom
Giovy Buyers was raised in Ecuador by rose farmers, so it's no surprise she became a successful florist as the owner of Southern Blossoms in Dilworth. When the shelter-in-place order took effect in March, Giovy was forced to close her doors. Soon after, her supply chain broke down and all upcoming events canceled. A $10,000 grant from the Access to Capital program will help Giovy pay rent as well as her vendors.
#3da7be
Modern Muffin
After career in teaching, Claire Putterman followed her passion for baking and launched Modern Muffin in 2011, helping people find delicious ways to eat healthier. The pandemic brought her production to a complete halt, as retailers stopped taking new items and some closed permanently. A $10,000 grant from the Access to Capital program will help Modern Muffin restore production, return to retailers and increase their online presence.
#99883e
Dogon Market
West End residents can count on Dogon Market for groceries, clothing and other essentials. "Helping the community with competitive prices drove me to be in this field," said owner Tidiani Karambe.

However, the pandemic resulted in shorter operating hours, less foot traffic and expired inventory. A $10,000 grant will help Dogon Market pay bills and replenish inventory. "The application process was easy to understand," said Tidiani.
#7accc8
Blue Ribbon K9 Academy
Carol Fox's love for animals was the catalyst for starting her dog training business, Blue Ribbon K9 Academy. However, shelter-in-place orders ceased operations and dog training became impossible while maintaining social distancing. With a $10,000 grant from the Access to Capital program, Carol will update her business technology with camera and video recording capabilities to provide virtual training.
#898989
Businesses Across Charlotte Receive Grants
Small businesses - such as restaurants, salons, fitness studios and more - in neighborhoods all throughout Charlotte have already received grants through the Access to Capital Program! The grant program is a part of the City for Charlotte's Open for Business initiative, and will distribute $30 million in federal funding to small businesses in Charlotte. 
#f05142
Flavor Seed
Flavor Seed was created when Adam Jenkins was inspired to honor his late father's dream of owning an organic spice company. The pandemic stunted the company's growth when engaging directly with customers was no longer an option. Adam plans to use the $10,000 grant received from the Access to Capital program to purchase new inventory and increase Flavor Seed's online marketing presence.
#7d304b
Gracie Barra Charlotte
Brazilian-born Diogo Silva de Souza, a black belt in Brazilian Jiu-Jitsu, and his wife Thea moved to Charlotte in 2011 to pursue their dream of opening their martial arts academy, Gracie Barra Charlotte. The shelter-in-place order meant closing the doors of the academy and the loss of a community and lifestyle that improves lives physically, mentally and spiritually. With 70% of their income lost, a $10,000 grant will allow Diogo and Thea to pay the rent owed to the current landlord and relocate Grace Barra Charlotte to a smaller and more affordable location.
#99883e
B. Well Homes
Adrianne Pinkney's business strategy for B. Well Homes is to provide "a home away from home" as a short and long-term rental solution to travelers in the Charlotte area. Travel ceased when the pandemic hit in March and within days guests were cancelling reservations leaving her properties vacant through June. A $10,000 grant from the Access to Capital program will allow Adrianne to pay the mortgage on her properties and re-hire one of her team members.
#7accc8
Mvivanco PHOTOGRAPHY
Matt Vivanco's passion as owner of mvivancoPHOTOGRAPHY is to capture intimate love stories at weddings through the viewfinder of his camera. Wedding cancellations and postponements created a financial strain on his business that meant cancelling client subscription services and using personal finances as a resource to remain in business. Matt plans to use the $10,000 grant he was awarded to reinstate client services and acknowledge his clients with care packages filled with gifts from local businesses.
#898989
PSquared Linguistics
Studies abroad and a love for languages led Ron Ponton's desire to start PSquared Linguistics as a business offering translation services for schools, law firms and government entities. PSquared Linguistics suffered a tremendous financial impact when schools shut down and the U.S. Citizenship and Immigration Services closed. A $10,000 grant from the Access to Capital program will allow Ron to explore new initiatives to pivot services to remote learning and keep his staff employed.
Foundation For The Carolinas and the City of Charlotte thank our partners in this effort: