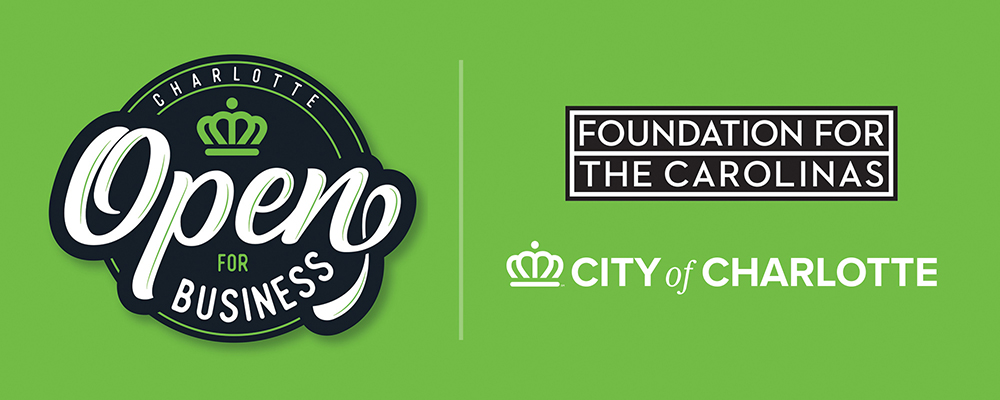 Access to Capital
Food Service Recovery Grant Program

Thank you for your interest in the City of Charlotte's Open for Business Access to Capital program. The Food Service Recovery Grant Program will distribute $4 million in federal CARES Act funding to restaurants, bars, food trucks, caterers and music venues located within the city limits of Charlotte.
The program is part of the City's Open for Business Initiative and will distribute grants of either $10,000 or $25,000, depending on number of employees. The application is now closed. Note: the application period may close earlier if all funds are distributed.
Foundation For The Carolinas serves as the City's grantmaking partner for this effort. Assistance is available at 704.998.6499 or CLTCityGrant@fftc.org. If you are interested in the Hotel/Motel Accommodation Grant Program, visit www.fftc.org/CLTHotelGrant.
La demande de subvention sera disponible sur demande en français, et une assistance sera disponible sur cltcitygrant@fftc.org / 704.998.6499.
该申请表可应要求提供中文版,敬请联系 cltcitygrant@fftc.org 寻求协助。
Đơn đăng ký sẽ có sẵn bằng tiếng Việt theo yêu cầu và trợ giup sẽ có tại cltcitygrant@fftc.org / 704.998.6499.
अनुरोध गरिएको खण्डमा आवेदन पत्र नेपालीमा उपलब्ध छ/हुनेछ तथा सहायता cltcitygrant@fftc.org-मा उपलब्ध छ/हुनेछ।