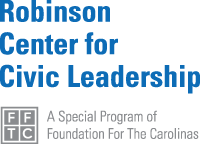 Community Conversations Resources

As our community continues its recovery from the pandemic, the Robinson Center for Civic Leadership is focused on some of the most pressing issues and needs such as mental health, housing and homelessness, racial equity and economic mobility.

Register for upcoming Community Conversations at fftc.org/upcomingevents. Video recordings of each session and additional resources are available in the drop-down menu below.